This page is a concept (v.1.0). Please check often for updates.
PLURA CEPS (Crypto e-Commerce Payment Solution) is a PluraCoin operated B2B and B2C payment ecosystem. Detailed info will be released soon.
---
We have realized PLURA has many existing tools which (with some adjustments) can be joined together to provide neccessary backend for B2C or B2B implementation so PLURA can become a useful and free payment platform for online business.
We also own BTCSquare crypto exchange so we can provide additional liquidity.
PLURA can also be traded for USD, EUR, BTC and LTC currently.
So we came with an idea of the whole ecosystem called Crypto e-Commerce Payment Solution (shortly CEPS).
What are the key benefits?
• super anonymous - cryptographically secured; opposite to Bitcoin and other currencies like Ethereum, Litecoin, Dash and so on PLURA uses a cryptographic security to hide transaction details from public
• completely free to use
• no transaction fees for merchant
• PLURA has a total final supply of 1 bilion (1,000,000,000) so prices in PLURA are easily recognizable / readable for customers - the are going to pay e.g. 1956.85 PLURA instead of 0.00000457 BTC (more like regular fiat currency)
• customer pays a symbolic transaction fee e.g. 0.7 PLURA (cca $0.00035)
• anybody can setup a masternode to support PLURA network transactions; fixed masternode fee is 0.25% (max. 10 PLURA per transaction)
• free desktop wallets for Windows, OS X and Linux based OS
• free mobile wallets for Android and Apple iOS
• possibility of quick payment via mobile app with QR code
• possibility of immediate Proof of payment
&bullet; transaction confirmed <2 minutes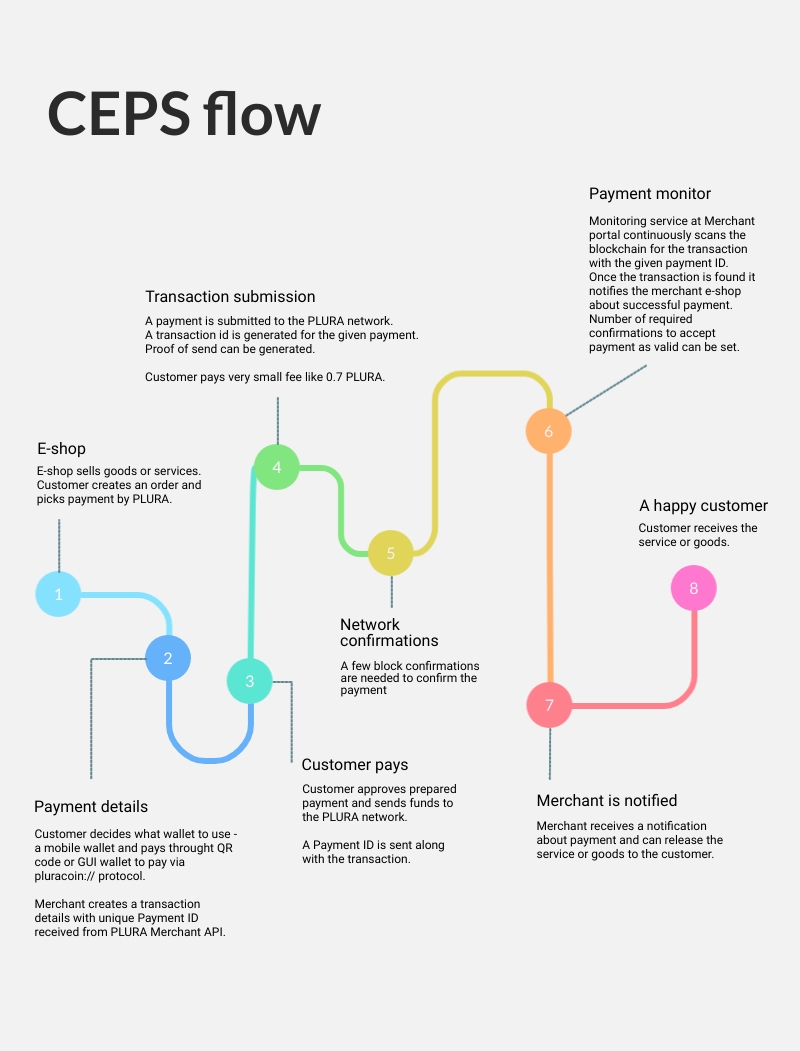 In its early years we have defined PluraCoin only as a digital cryptocurrency for common people but without any specific focus.
It worked well and PLURA has been successfully adopted by masses who kept their funds in the network securely.
However during the worldwide pandemic situation with COVID-19 we have personally witnessed many classical / street business to get closed because of government anti-pandemic restrictions. Many people have tried to find a new ways of a legal income in an online business but they often failed because of the rejection by a financial institutions.
PLURA and its CEPS simply follow the original idea of bringing digital cryptocurrencies closer to the common people, not only IT professionals or computer enthusiasts but now with a huge focus to provide an easy online payment system with available e-commerce integration.